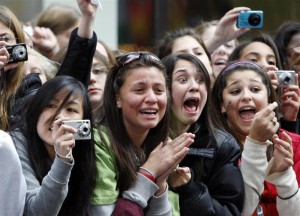 Mr. Big Shot came from a city nearby to this workshop. He just finished his talk and everybody is thinking that this guy is good, damn good. Immediately other big shots, wannabes, and douchebags approach him. They got him surrounded, but he looks to the emptiness, replying some aha's and some yeah's here and there. Are they also going to ask him for an autograph or what?
You, Mr. PhD Student, get close to the circle. You listen to them. One of the big shots goes saying: in my group we are doing some plestoforic regression trying to predict the cyclitization value for the eigenforks, we use the Pimpinela approach, setting the degree to 4, since if you apply a femtoklander to a degree 3 you get a degree 4, right? Ha ha ha, and bla bla bla me me me myself myself myself. And Mr. Big Shot has to restrein himself from yawning. When the guy stops talking, you know your time has come. You extend your hand to Mr. Big Shot and introduce yourself.
– Johnny Mentero, PhD Student from the University of Pain, nice to meet you. Very nice talk indeed, you do cool stuff in your group. I guess you came by car, are you leaving right away?
– Thanks. Yes, I am leaving now.
-I see, you gotta avoid the traffic jams.  (you walk with him outside) I was wondering if your plestolitic compressor also works when classifying trocolas.
– Well, we tried and it works pretty well. (keep walking)
– Ah, I checked your webpage and saw there your tool, can it be downloaded or borrowed?
– Well, not really, but we are open to collaborations and then let other people use it, send me an email if you want something. (you got him)
– I will certainly do, by the way, are you attending this conference next June in Cheeselands? I think it would be interesting for you.
– Nope, but I will be there in October for a conference on progressive neural machines.
– If you would like it, I can walk you around the University of Pain and show you our work.
– Yeah, send me an email. (you definitely got him, you seal the deal)
Approach a big shot,  what are the learnings here?
You got to praise people, thank them.
You got to talk about them first, show them how interested in them you are.
You have to be genuinely interested, don't fake it.
Forget the me-talk. Once they are more relaxed with you around, you can talk, shortly, about what you do and what you want from them. They might even ask you why you make all these questions.
Once you have the foot on the door, stop pressing. Contact them later with more inquiries.Interested in becoming a Scientist 2.0? Then visit my blog