Do you want to have an alternative income while working as a scientist?
Do you have some spare hours and you want to get extra bucks? Is your graduate scholarship not enough to pay for your lifestyle? Do you find exciting to work in different scientific and consulting projects in your free time?
The following websites will help you to sell your expertise and generate some alternative income as a scientist.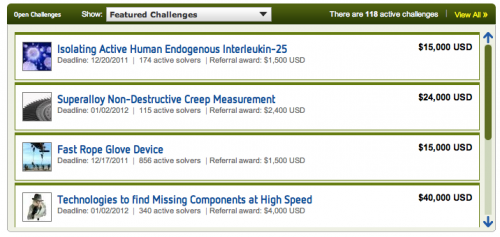 Innocentive is the meeting point for problem owners and problem solvers. You can change problems for "projects to be outsourced" and problem solvers by "smart scientists".
A problem owner posts a challenge for which he is seeking assistance and provides a economical reward, which in many cases exceed 10K $ (not bad for alternative income). Some of these challenges require quite an effort and can should be performed in collaboration with other solvers.
Examples of challenges are: "Seeking Inhibitors of Fatty Acid Amide Hydrolase", "How to Augment a Camera to Capture More than a Snapshot?", or "The Cathode Ray Tube Challenge: New Uses for Recycled Glass".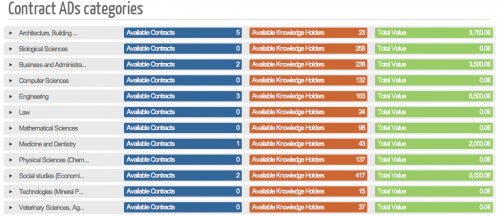 Acabiz is a similar concept to Innocentive.  This new website offers consulting opportunities to academic scientists within their field of specialization. Expect and alternative income per project in the range between 1K to 5K euros.
Currently, this new service has a large pool of knowledge holders, but not so many available contracts. Let's hope that in the coming months we see an increase in the demand for experts.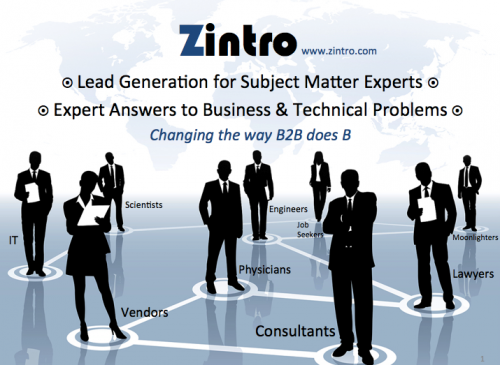 Zintro is general marketplace in which science is not the main area of interest. Here you can find anything from lawyers, to accountants, to mathematicians, you name it. In this sense, it is not far form other generalist  freelance websites like Freelancer.com or oDesk.com.So why you should consider Zintro?
If you check Freelancer or oDesk, the only scientific projects you can find fall in the category Scientific Writing. Fortunately, Zintro receives lots of project offers and best of all, you can describe yourself using a predefined set of keywords, which makes it easy to be found by potential seekers. As a matter of fact, I have been approached by people asking for advice in topics, which in many cases, were close to my expertise.
Room For Improvement In Freelancing Science
Truth be told, these websites still do not present a wealth of offers. Specially if you compare them with volume sites like freelancer.com or oDesk.com have.
I have discussed previously why scientists should consider freelancing as a valid career option. Unfortunately, these freelancing opportunities should come from other scientists and research companies, which might not be inclined to outsource their research projects.
Interested in becoming a Scientist 2.0? Then visit my blog